Vodafone Digital PaCon2018 - Germany;
around 6.000 sqm height adjustable flooring system in combination with approx. 5.000 sqm Dome tent structure for the this year Vodafone Digital PaCon Exhibition & Gala eventS. We deliver additional to the complete infrastructure the therefore necessary air-conditioning & ventilation system.
IRMARFER custom-made Design - Client: Trojka & Aroma AG | Event period August 2018
With our modular flooring system, we are able to realize individual and unique Event & Festival tools. In combination with the customizable veneering elements (incl. branding) which we produce total in-house - complete unique and impressive event tools emerge.
Inform right now and put your next public appearance (fair, festival, etc.) on a new design and personalized event tool.
Public Viewing Events 14. Juni - 15. Juli 2018 | Solothurn, Olten & Zürich:
Our modular Dome structures with it´s open design, is the ideal solution for public events. We offer our clients: room height, hanging loads for light and sound equipment, design and the open air feeling even the location is covered.
In addition to this innovative roofing system, we also provide our customers with the desired grandstand system from a single source.
Event 14 Juni 2018, Bannwil - BKW: IRMARFER was awarded the contract by BKW Xplore, its pioneer, to be the discoverer event with the modular Dome Tent Structure 40x60m. The entire area was leveled out with the help of our height-adjustable flooring system from 0,2 to 1.2m level difference effortlessly.
Mobile & innovative air-conditioning system:
6 pcs. 30 kW AC Units incl. blowout tower and 2 pcs. axial Ventilators were used to cool this complete structure down to comfortable temperatures during the midsummer.
The "Future Dome" was during the the day a Congress locations and by night the location changed to a live concert area.
NEW: The Wave Structure R is unique in technology & design and impresses with its impressive technical data in relation to the ceiling height and suspension point loads at the roof. The Wave Structure R was designed for the requirement of high spans (without poles) in a round design and will be used for trade fairs, music festivals, major events, corporate and sporting events.
NEW VD-Solution | ATP 250 Gazprom Budapest: April 2018
Our modular dome tent structure combined with our storey system ist called the VD-Solution. This new solution offers more event space at a limited event location.
The storey system is available in following grid dimension:
2,5 by 2,5m | 5 by 5m | 7,5 by 7,5m & height adjustable till 4m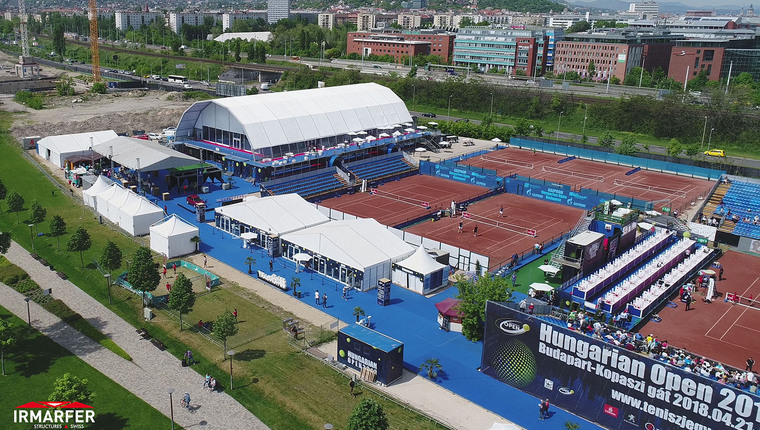 HUNGARIAN TENNIS FEDERATION - Budapest.
For the Hungarian Tennis Federation, over December, our Sport Dome Hall System (C3) was realized.
This 37 by 50m SPORT DOME structure will be heated with a WECO 635 KW heater and 2 large fans.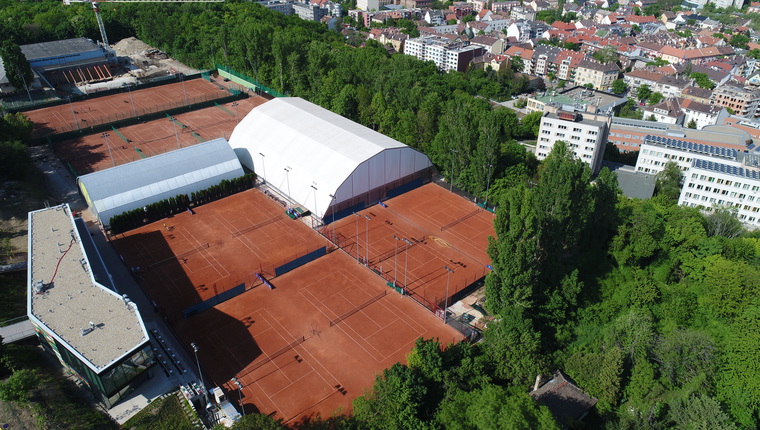 "ATP Erste Bank 500" Tennis Tournament, Vienna since 2015-18:
Here we use since 4 years our 20 by 40m Dome tent incl. flooring system and our mobile heating system.